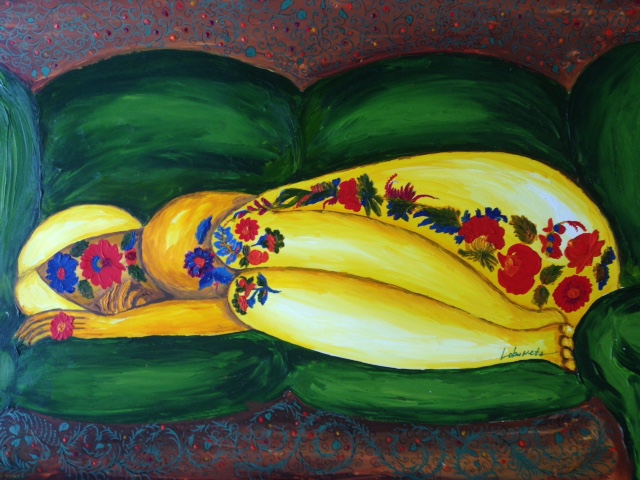 Matryoshka Girl.
Mixed Media
700×500
Signed. Unframed.
£1600
Ukrainian floral pattern
[A matryoshka doll (Russian: матрёшка; IPA: [mɐˈtrʲɵʂkə] (
 listen), matrëška), also known as a Russian nesting doll, or Russian doll, [russian doll. (n.d.). Collins English Dictionary – Complete & Unabridged 10th Edition. Retrieved April 14, 2016.] is a set of wooden dolls of decreasing size placed one inside another. The name "matryoshka" (матрёшка), literally "little matron", is a diminutive form of Russian female first name "Matryona" (Матрёна) or "Matriosha" [Oxford English Dictionary Online. Accessed 2011-03-25]
[Matryoshkas are used metaphorically, as a design paradigm, known as the "matryoshka principle" or "nested doll principle". It denotes a recognizable relationship of "object-within-similar-object" that appears in the design of many other natural and crafted objects. Examples of this use include the matrioshka brain and the Matroska media-container format.
The onion metaphor is of similar character. If the outer layer is peeled off an onion, a similar onion exists within. This structure is employed by designers in applications such as the layering of clothes or the design of tables, where a smaller table nests within a larger table, and a smaller one within that.
The Matroska (MKV) multimedia container format derives its name from Matryoshka, alluding to the container being able to hold many different types of content streams] [wikipedia]