Picasso 'Nude Woman in a Red Armchair' is one of the most gentle, feminine, beautiful yet philosophical images created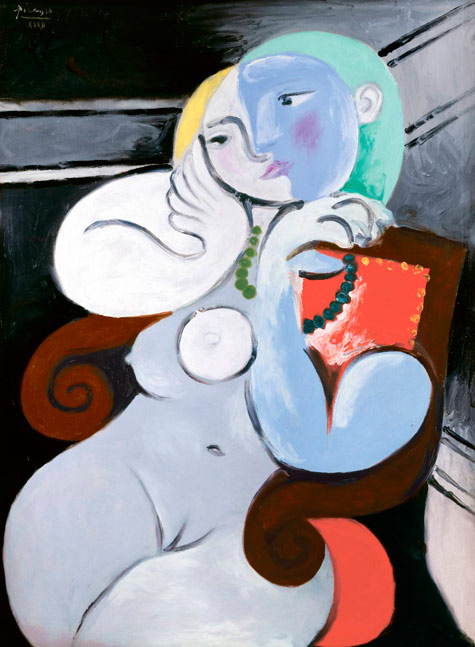 'Femme nue dans un fauteuil rouge' 1932
(Picasso 'Nude Woman in a Red Armchair')
Oil paint on canvas
Dimensions support: 1299 x 972 mm frame: 1414 x 1081 x 83 mm
Collection: Tate
Acquisition: Purchased 1953
Perfect woman of Pablo Picasso 'Nude Woman in a Red Armchair'
Curvy
Smooth and glowing
So feminine
Colourful
Bright
Treasuring her femininity
Shy but naked
Innocent but seductive
So open but closed at the same time
Obedient yet powerfully supportive
Sitting on a throne but put into the corner
Accepting her man
Kissed, loved, been passionately obsessed by him
Owned by him. Sharing her body with him
It's not a picture of a moment: it is a story. A story of relationship between man and woman. Intimate so so very close, secret even (some may not even notice that relationship they have). The peek of relationship: intimate kiss.
Her relationship with the environment. The outside world, although being of the same nature as if created for her, perfectly curvy for her, repeating her lines her language, but shadowing her, so much darker more dull, a background for her and her story.
And her place in that world. Her place is luxurious red chair a throne, royally holding her, but put into a dark corner… No way out it's a corner her corner. Which is both a treasure a home for a woman and her prison at the same time: comfortable, aesthetic and luxurious but a trap.
She contains him in her body
Relationship between man and woman is an ownership too.
There is also a story of relationship between woman and her treasures. Both kinds of treasures: her precious jewellery – beautiful, expensive, big and noticeable, and her feminine body – the most precious the most beautiful treasure a woman can possess, enjoy aesthetically herself and impress others, that is the perfect jewell – her body – her feminine round breast.
That is a perfect woman for him.. Or for any man. Beautiful, and so feminine she is.
Lobunets ©